Health and Safety Video Subtitling in any language
Subtitles and Voice-Overs for Health and Safety Training Films
Many health and safety DVD's and films are being translated and subtitled into foreign languages, as companies are employing more and more foreign nationals to work for them. There are many areas in which health and safety films are used such as constructing, food industry etc covering areas such as:
Asbestos

Hygiene

Carbon monoxide (CO)

MSD

Dermatitis

Respiratory disease

Noise

Work-related stress

Hand-arm vibration
Adelphi Studio are experts in the translation and subtitling of health and safety films and videos, in any language. We can make multi language DVD's with the languages selectable via a menu, communicating the specific health and safety policies of your organisation to your entire workforce.
A DVD can hold:
Maximum number of audio streams: 8
Maximum number of subtitle streams: 32
Adelphi Studio also produces voice-overs for health and safety films and videos.
Get a quote for Health and Safety Subtitling 
HERE
Corporate Video Subtitling Services
Corporate Video Subtitling Services
Adelphi Studio's Corporate Video Subtitling & Translation Services includes translating and producing both open and closed caption subtitles in any language. Adelphi Studio has been producing Corporate Video Subtitles for all areas of industry for over ten years. Adelphi produce Corporate Video Subtitles in all video formats such as Mov, MPEG-2, WMV, flv, etc, using  srt, sub, stl, fab, sst to mention a few.
Adelphi always produce all their Corporate Video Subtitles in-house and never outsource any of the work therefore maintaining confidentiality as well as quality. Our multimedia department is set up to work on a wide range of subtitling formats. We are able to take your original video/DVD and recreate a working copy with subtitles with or without menus.
We also provide transcription and translation services in any language, to provide time-coded scripts for translation. The length of many languages will expand when compared to original English and care must be taken in the translation to keep the true meaning of the English, while staying within the time frame allowed.
Adelphi Studio is part of Adelphi Translations Ltd a full service translation agency producing not only Corporate Video Subtitles but also Foreign Language Websites, Foreign Language Typesetting and voice-overs. We have produced subtitles for company promotional videos, music videos, e-learning videos and instructional videos, either on the Internet or on DVD.
Get a quote for Corporate Video Subtitling 
HERE
Multilingual Typesetting (DTP) for Amnesty International
Adelphi Translations are experts in translating and typesetting multilingual documents in any language or combination of languages. We were first approached by Amnesty International to help with typesetting languages like Georgian and Ukrainian.
Since then Adelphi Translations have been working with Amnesty International typesetting multilingual materials in Kurdish Sorani, Tamil, Italian, Chinese, Cambodian, Croatian, Farsi, Albanian, Malay, Urdu, Hungarian, Hebrew, Ukrainian, Sinhalese, Indonesian, Nepali, Korean, Russian, Lithuanian, Portuguese, Brazilian Portuguese, Khmer, Georgian, Serbian, Kinyarwanda, Swahili, Hindi, Bengali and Greek.  
Multilingual Typesetting Samples (Click to enlarge). A selection of covers
from materials we have produced for Amnesty International
Adelphi also works for other international aid organisations such as UNICEF and Muslim Aid.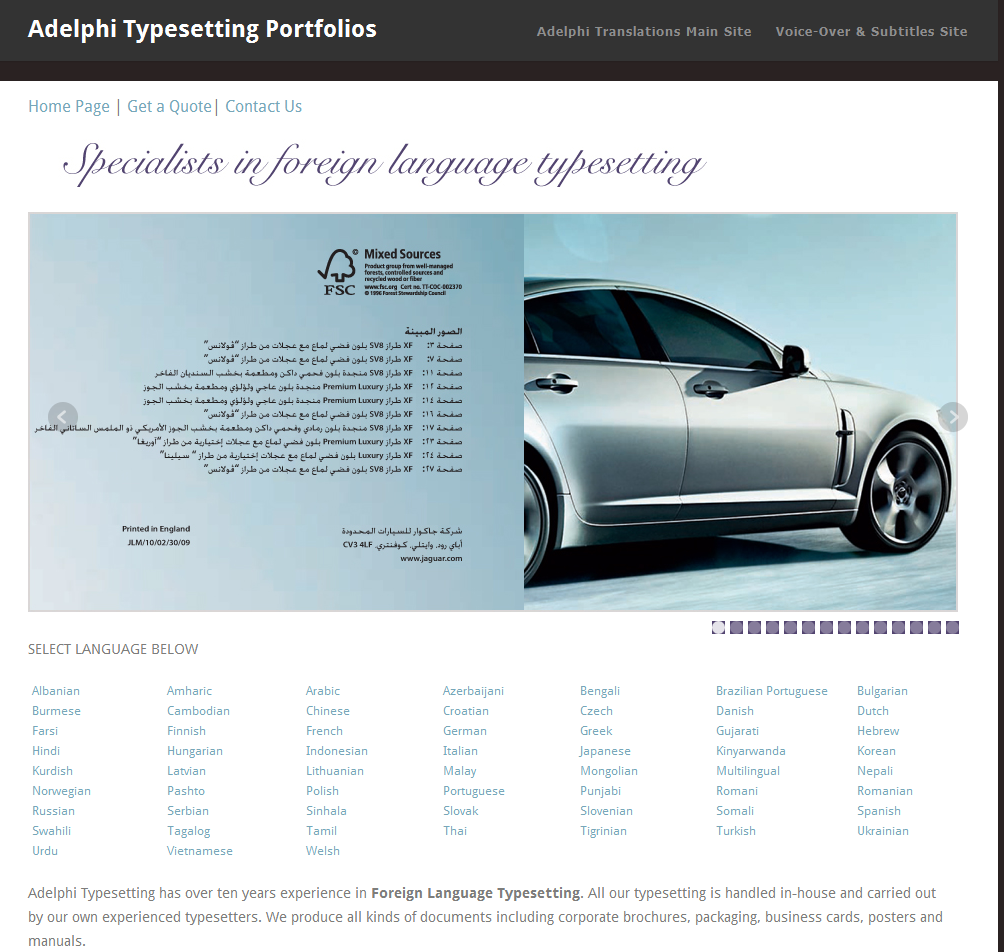 Adelphi Typesetting is our latest website with portfolios available in over 60 languages  VIEW PORTFOLIO
Adelphi Translations has its own in-house typesetting studio and we never send our multilingual typesetting elsewhere. We have over 10 years of experience typesetting printed materials using both Macs and PC's, we  work on all Adobe InDesign, Adobe FrameMaker, QuarkXPress or Microsoft Office files. To avoid any problems printing it is normal procedure to provide high quality print-ready PDFs. We have specialist right to left software to make InDesign files work in Arabic, Urdu, Farsi, Kurdish Sorani or any other right to left language. We can also convert QuarkXPress files to InDesign where needed to typeset right to left languages.
Even if you already have the translation Adelphi are quite happy to just set the typesetting for you, Adelphi often undertake typesetting for other translation agencies.
Multilingual Voice-Overs and Multilingual Subtitling
We also produce multilingual voice recordings and multilingual subtitles.
To see samples please visit our dedicated website at www.adelphistudio.com
Far Eastern Case Studies
Adelphi  specialise in foreign language typesetting (DTP) and are especially experienced in typesetting complex and exotic scripts. Here are some case studies of work we have produced in Far Eastern languages including Chinese, Japanese, Cambodian, Korean and Malay.
Cambodian or Khmer
Cambodian, or Khmer is the official language of Cambodia with speakers in the tens of millions and its own exotic script. The example below was one of the first typesetting jobs we did for Amnesty International after we were selected as their language supplier. Since then we have completed brochures in Croatian, Tamil, Cambodian, Albanian, Malay, Romanian, Romani, Hungarian, Ukrainian, Sinhalese, Indonesian, Russian, Portuguese, Georgian, Slovak, Kinyarwanda, Swahili, Hindi, Bengali and Greek for Amnesty.
Malay (Bahasa Malaysia) Brochure
Korean
Korean is in some respects simpler to work with than Chinese or Japanese. Korean word wrapping is less problematic as written Korean breaks down into individual words with spaces, unlike Japanese and Chinese.
Japanese
Adelphi translations experience with Japanese typesetting as well as Japanese websites, voice overs and subtitles present no problems for us. Adelphi started out by specializing in Japanese typesetting of brochures, leaflets and other printed materials 10 years ago and has since typeset over 120 different languages. Our in-house Japanese staff proofread all Japanese work before approving it for sending to the client.
Japanese Websites
Using sophisticated translation software we can produce foreign language €˜clones' of an existing English website without the risk of damaging any embedded code. Adelphi Translations are experienced in working with all aspects of a website including Flash movies, images and sound. The sample below for a hotel in London was translated into various languages including Japanese.
Chinese typesetting
When typesetting Chinese we are fortunate to have Tony Wong as our in-house Chinese typesetter and resident expert on the Chinese language, which assures that your Chinese typesetting projects are handled professionally and accurately. We recently produced the brochure below for the Birmingham Chamber of Commerce about the Chinese training camp for the Chinese Olympic Team in 2012.
Adelphi Translations don't shy away from 'rush jobs'.  We will always do our best to meet deadlines, no matter how impossible they may seem. Late one afternoon, at 4 pm to be precise, a well-known London Advertising agency came running to Adelphi Translations with an urgent Chinese translation and typesetting of leaflets. The final Chinese typeset files had to be delivered as artwork, in Adobe Indesign format, by 9 am the next morning.
The only way to meet the deadline was to translate directly into the InDesign artwork files.  Our in-house Chinese translator was able to translate and typeset the documents and meet the deadline. Since then we have completed more Chinese typesetting jobs for the same agency but, thankfully, with a more realistic deadline of 24 hours.
Chinese translation, voice-overs and subtitles
As well as producing foreign language subtitles for video, Adelphi Translations have been involved in many projects which required €˜same language captions', which are basically subtitles intended as an aid to deaf or hard-of-hearing viewers.
To see more subtitling and voice-over samples please visit our dedicated website at www.adelphistudio.com
Adelphi Translations Limited is a company registered in England and Wales.
Company Number 06989736 · Registered Office Thorncliffe Park Estate, Chapeltown, Sheffield S35 2PH