Articulate Storyline Localisation into any language
Articulate Storyline Localisation
Adelphi can localise your Articulate Storyline course into any language. For Storyline localization, we use a fully supported and tested process, which consists of four stages:
Export the original text:
The English text from the course is exported into a table in Word or a translation memory file (XLIFF format). This includes buttons, sliders and captions that are not part of the main body of text.
Translate the exported text:
We contact a professional, experienced translators working into their native tongue and ask them to translate your content. The linguists will be selected based on their skill and understanding of the subject matter: we have a translator for every specialisation. All of our linguists have a minimum of three years' commercial experience and are vetted based on quality and punctuality.
Import the translated text:
The translations then go to our production department, where the foreign-language content is imported back into the course, populating the text boxes, button, sliders and captions with the translated text.
Quality testing:
We perform quality checks on the result, making sure that the process was successful: that there are no errors in functionality and any text that is longer in the foreign language than the source fits comfortably in the template.
Subtitling, Voice-overs, Typesetting
Adelphi also offers subtitling, voice-over and typesetting services, meaning that if your course has any video or printed word elements, we can produce these in your target languages as well. We understand that rolling out a new course can be a complex undertaking, which is why our project managers are set up to handle everything about the localisation process for you in one place.
Japanese Translations and Subtitling for the John F. Kennedy Library Foundation USA
E-Learning: over 2 million words in 15 different languages for the e-learning industry
E-learning support materials in any language for e-learning producers
Adelphi has worked for some of the major e-learning companies in the world, producing foreign language and English subtitles, voice-overs, translations, transcription, typesetting and website localisation.
In the last two years alone, we have recorded over 2 million words in 15 different languages for the e-learning industry. We have a variety of voice talents available to suit every project and recording takes place in our own sound-proofed, state-of-the-art studio facilities in the office, operated by expert technicians.
A tailored e-learning support service from knowledgeable professionals
We understand that every project is different and that our clients each have unique priorities: we will discuss your requirements and explore all of the options with you, looking for the best ways to save you time, money and effort while offering the highest standards of quality.
Any language, any specialism: just ask for advice and information
Whether you need a translation into a rare language or your text is highly specialised, we can help. Our translators are specially-selected professionals working within their mother tongue only. Your project manager will match your project to the linguist with the best expertise to handle the sort of text you need translated.
We'd be happy to discuss all of your translation needs with you: just contact us for information and advice and we'll be there to help.
Articulate Storyline localisation service
Through our combination of technical expertise and quality translation provision, we are now able to localise your Articulate Storyline courses and presentations in any language, allowing your content to inform and educate new audiences.
We can translate not just the text from your Articulate Storyline course itself but also localise all of the button and slider content too, we also add voice-overs and subtitles to any embedded videos using translated scripts and voice talents we can provide.
Our project managers understand that every course is unique and will discuss your requirements with you to create the right package of services for your content. Supported by experienced Articulate Storyline editors and technicians, they will then handle your project from end-to-end to your specifications, offering advice and recommendations where appropriate to fine-tune the work to your needs.
Need voice-overs or subtitling without translation? No problem.
Sometimes clients will want us to supply subtitles in the same language as is spoken on a video, or record a voice-over using a script they have provided. Whether you need us to translate for you or not, Adelphi's project managers will advise you on the best workflows to get the files you want from the files that you have.
Our services are modular, allowing us to build a project plan tailored to your needs and execute it for you, freeing you of any micromanagement.
Typesetting of printed materials and website localisation.
To support your e-learning programme you may also require support materials such as brochures, training materials and teaching aids in the same language as the e-learning course. Adelphi has over 20 years producing such materials. You may also require your website localizing in the same languages, again Adelphi has its own website technical team to help you with this.
 Over 20 years' experience providing multimedia materials across all industries
Adelphi's multimedia team operates exclusively in-house, using the most up-to-date industry-standard software for typesetting, voiceover and subtitling. If you have any technical queries we will assist you, conducting our own research and testing if necessary.
100 Pages Arabic Typesetting For The Royal Armouries
Adelphi have just completed over 100 pages Arabic typesetting for the Royal Armouries for an exhibition in Oman.
Adelphi were approached by the Royal Armouries to typeset in Arabic posters, brochures and exhibition materials. As all the materials were bilingual with both English and Arabic on the same page or on opposing pages we had to make sure that the English text did not change from the original source.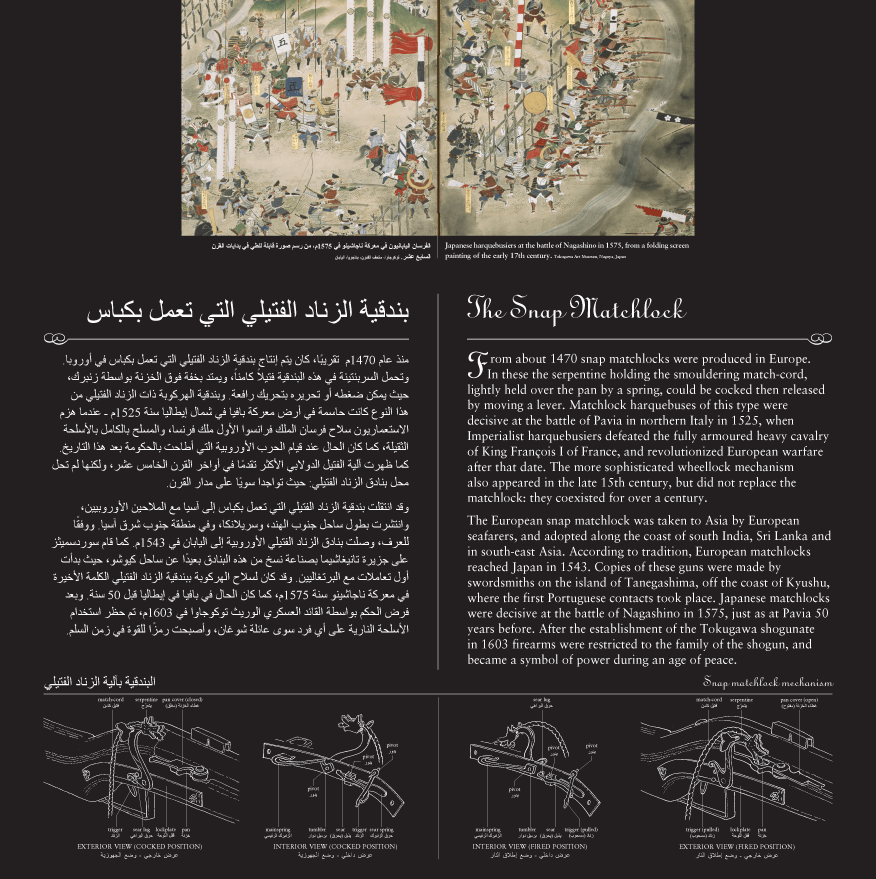 Adelphi has been translating and typesetting Arabic and other languages for national and international companies including Jaguar, Vidal Sassoon, Cisco, Sony etc, direct or via they're advertising and design agencies. We also work for international aid agencies such as Amnesty International, Refugee Action, UNICEF and the Refugee Council.
Other Arabic Typesetting Samples
Adelphi has its own in-house typesetting studio providing Arabic typesetting. All our typesetting is handled in-house and carried out by our own experienced typesetters. Adelphi Translations has been producing Arabic typesetting for over 20 years. We produce all kinds of Arabic print materials including corporate brochures, packaging, business cards, posters and manuals, not just in Arabic but also in over 100 other languages.We also produce monthly financial reports in Arabic for use in 5 Arabic countries.

---
Typesetting for Vidal Sassoon, Toni&Guy, Scholl and Revlon.
Adelphi have been producing packaging and manuals in French, German, Italian, Spanish, Russian, Arabic, Hungarian and Polish for Vidal Sassoon, Toni&Guy and Revlon.
Working for their design and product development team, we have translated and typeset a large variety of packaging, instructional and promotional materials for their international markets for products such as hair dryers, hair tongs and shiatsu massagers.
Adelphi often work for advertising agencies and design agencies on behalf of their clients. Here are some examples of packaging projects we have worked on.
Packaging is one of the more technically difficult projects to do. These often require special colours, cutters and flaps and a knowledge of typesetting is essential. Our head of typesetting cut his teeth on packaging in the creative department of Nestlé, working on a wide range of packaging for every kind of product.
Toni & Guy Product Information in Arabic
Japanese Subtitling For ABSOLUT ELYX Vodka
Japanese subtitling sample for ABSLUT ELXY Vodka
To see more samples of our Japanese subtitling and translation services, please visit our Japanese subtitling page here
Adelphi Studio's Japanese Subtitling Services includes translating and producing both open and closed caption Japanese subtitles. Adelphi Studio has been producing English to Japanese subtitles for corporate video for over ten years. Adelphi produce Japanese subtitles in all video formats such as Mov, MPEG-2, WMV, flv, etc, using  srt, sub, stl, fab, sst to mention a few.Adelphi always produce all their Japanese subtitles in-house and never outsource any of the work therefore maintaining confidentiality as well as quality. Our multimedia department is set up to work on a wide range of subtitling formats. We are able to take your original video/DVD and recreate a working copy with Japanese subtitles with or without menus.
We also provide transcription and translation services in any language, to provide time-coded scripts for translation. The length of many languages will expand when compared to original English and care must be taken in the translation to keep the true meaning of the English, while staying within the time frame allowed.
Finnish Subtitling & Translations For The Honey Monster
Adelphi Studio's Finnish Subtitling Services produces both open and closed caption Finnish Subtitles. Adelphi Studio has been producing English to Finnish translations and subtitles for corporate video for over ten years. We produce Finnish subtitles in all video formats from videos such as Mov, MPEG-2, WMV, flv, etc.
We also provide a transcription service in any language, to provide time-coded scripts for translation. The length of many languages will expand when compared to original English and care must be taken in the translation to keep the true meaning of the English, while staying within the time frame allowed.
Adelphi always produce all their Finnish subtitles in-house and never outsource any of the work therefore maintaining confidentiality as well as quality. Our multimedia department is set up to work on a wide range of subtitling formats. We are able to take your original video/DVD and recreate a working copy with Finnish subtitles.
Adelphi Studio is part of Adelphi Translations Ltd. a full service translation agency producing not only Finnish translations but also Finnish websites, Finnish typesetting and Finnish voice-overs. We have produced Finnish voice-overs and subtitles for company promotional videos, music videos, e-learning videos and instructional videos, either on the Internet or on DVD. These videos have been down sampled for the web and do not represent the actual quality of the video provided to the client.
Client Testimonials
"I am happy to provide sign off for the completion of this very extensive project. Thanks to you and your team for your patience, support and as always,  fantastic service.  It is always such a pleasure doing work with Adelphi who more than exceed our expectations."
Scottish Refugee Council
——————————————————————————————————————————————————————————–
"It's been a pleasure working with you and your team. In the past, our work on these kinds of projects has been quite prolonged and frustrating so thank you for providing such a quick, smooth and easy process.
I look forward to working with Adelphi again in the future."
UNICEF
——————————————————————————————————————————————————————————–
We had a review of the translations and they are perfect. Haven't seen such a perfect translation for a long time.
Global Knowledge Germany
——————————————————————————————————————————————————————————–
Many thanks for a brilliant job!
Nuria
Amnesty International
The designer was very impressed how you'd managed to improve the readability of the text so much – thanks for that.
Fiona
Amnesty International
——————————————————————————————————————————————————————————–
"BMBC Asylum Service has used Adelphi for translation purposes for over 3 years. They worked very closely with us in producing our New Arrivals Handbook and multi lingual website.
We have found them to be professional, prompt and provide excellent value for money.
I would recommend Adelphi wholeheartedly."
Jake Rollin
Manager
Asylum and Migration Service.
——————————————————————————————————————————————————————————–
"We recently completed our second project with Adelphi and, despite the very tight deadline, they turned it around quickly and efficiently, even highlighting mistakes we'd made. Everyone in the team we worked with was very helpful and we are already planning our next project. They will continue to be our first point of contact for translation services."
Kira Bailey
Account Manager
To the Point (Advertising agency)
——————————————————————————————————————————————————————————–
"Due to the nature of our organisation and the work that we do, we often need translations and voiceovers in a number of languages producing very quickly. I can always count on the team at Adelphi to provide me with exactly what I want within the short time frame we work on."
Maryam Mohsin
Communications Officer
Muslim Aid
——————————————————————————————————————————————————————————–
"Thanks very much for all the work you've done for us. We have had very positive feedback on the provision and range of foreign language questionnaires you produced and I have recommended your services to the design agency who worked on this project."
I have recommended your services to the agency I work with on this job, should they require any translation work, and I will be in touch again next year!
Laura Harrison
Marketing
Tesco
——————————————————————————————————————————————————————————–
"Adelphi completed our urgent requirement for translation efficiently, at a competitive price and were also flexible enough to work around our chaotic schedule. Adelphi's services have been of great assistance in raising our profile internationally."
Maeve O'Sullivan
Media Manager
D&AD
——————————————————————————————————————————————————————————–
"I am a French speaker myself, and I must say I was very impressed with the French section of the tour, and I'm delighted to say the sound through the headphones is fantastic".
Dawn Nolan
Dualway (Coaches)
——————————————————————————————————————————————————————————–
"Thought you'd like to know we have received very positive comments on the Mandarin translation from our client€¦.."
"I am pleased to receive the translated Mandarin version of the tourism brochure. The quality of translation is among the best I have seen while working for the China Bureau. It has achieved accuracy while being able to keep the style and flavour of the original literature. I'm sure the targeted Chinese readers would get the message."
Birmingham Chamber of Commerce on behalf of East Midlands Tourist Board
——————————————————————————————————————————————————————————–
Adelphi Translations Limited is a company registered in England and Wales.
Company Number 06989736 · Registered Office Thorncliffe Park Estate, Chapeltown, Sheffield S35 2PH